Washington Capitals (26-7-5) vs Boston Bruins (22-7-9)
TLDR; Bruins end three-game skid, defeat Capitals for first time at home since March 6th 2014, Alex Ovechkin scores 23rd of the year.
---
The Washington Capitals had the chance to complete another regular season sweep, this time against the Boston Bruins. Although the Bruins are just 1-12-4 against the Capitals in their last 17 games, and 1-4-4 in their last nine, two early power plays for Boston helped them establish an early lead. The majority of the first frame was played in the Caps' defensive zone, and a high-sticking penalty against Nick Jensen gave the Bruins their first man-advantage at the 1:30 mark. Just as soon as that penalty was successfully killed off, Radko Gudas was called for hooking. Not even 10 seconds into the power play, Jake DeBrusk scored his 9th of the season, and his very first goal against Washington and Braden Holtby. The Capitals did not register even a single shot on goal until the nine-minute mark. Washington received their first power play as Charlie McAvoy went off for tripping just short of the nine-minute mark but did not convert. Alex Ovechkin had a spectacular opportunity on a wide-open net during that power play, but Rask stopped him just short. Brad Marchand improved Boston's lead by two goals at the 13:29 mark. His 19th goal of the season was just his first in 12 games, with the last goal coming on November 27th. Less than 30 seconds later, Anders Bjork gave the Bruins a 3-0 lead with his 6th of the season, and like DeBrusk, his first goal against Washington. Garnet Hathaway and Connor Clifton received matching penalties 50 seconds later (cross-checking, slashing) and play continued as four-on-four. With under three minutes remaining in an already-exhausting period, both Jakub Vrana and Evgeny Kuznetsov were called for penalties (tripping, slashing) and the Bruins received a 5-on-3 opportunity to improve their lead once again. Patrice Bergeron would do just that, with his 14th goal, at the 18:57 mark. Caps' head coach Todd Reirden certainly tried to get 'the message' across, as neither Vrana nor Kuznetsov played more than a handful of shifts for much of the second period. A period that simply could not end soon enough saw Washington falling behind four goals to none heading into the second.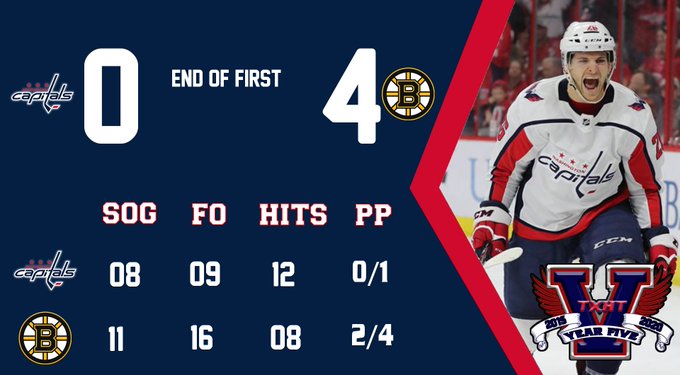 Washington needed a strong second period showing if they wanted a fighting chance against the Bruins. The Capitals elected to replace Holtby with Ilya Samsonov at the start of the middle frame. Samsonov was challenged with a Boston breakaway early on, but stood tall. Washington received back-to-back power plays as Jake DeBrusk and David Krejci were called for slashing and tripping, respectively. Caps' center Evgeny Kuznetsov had two excellent opportunities presented to him on the man-advantage, but couldn't convert. With 12 seconds remaining on the Krejci penalty, Charlie Coyle scored short-handed, improving the Bruins lead to 5-0. Tonight's match was just the second time the Capitals have allowed five or more goals, on the road. Washington played a much more physical game in the middle frame, and it eventually paid off. Alex Ovechkin, with his 23rd goal of the season, spoiled Tuukka Rask's shutout hopes, after lots of patience and a rocket of a shot. Yes, the Capitals haven't had the best night, but Rask has also been nearly unbeatable all night. John Carlson was called for slashing shortly thereafter, but Washington was able to kill off that penalty. Trailing by four, the Capitals out-shot Boston, 17-2.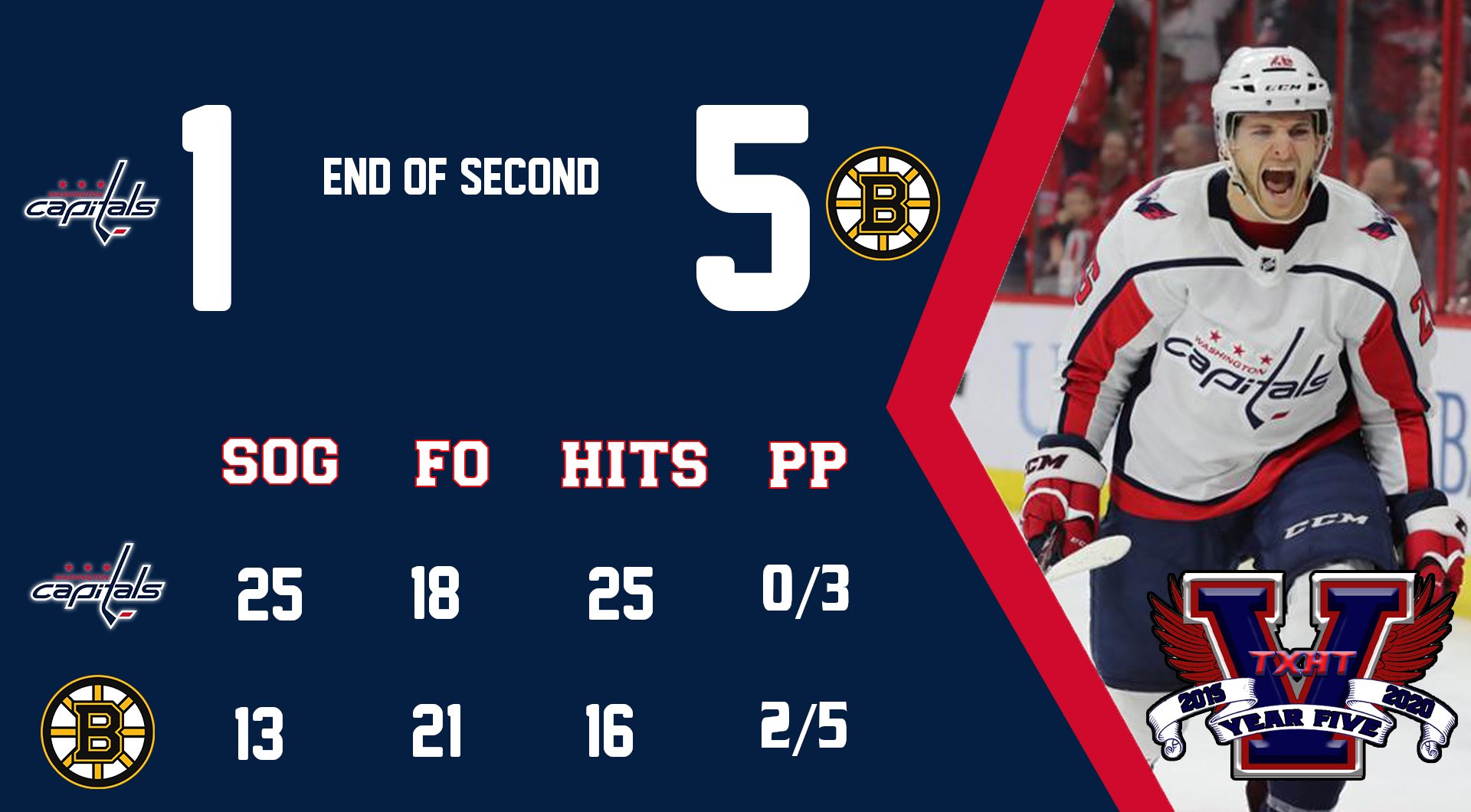 The third and final frame started off with a Boston power play, as Alex Ovechkin was called for holding, although many would argue the legitimacy of the call. Tom Wilson nearly scored short-handed on the Bruins man-advantage. The Capitals would keep Boston from scoring a third power play goal. The Bruins have been assessed bench minor penalties for too-many-men more times than any other team this season, and they would be called for the same penalty with just over 12 minutes remaining. Washington, despite the strong penalty kill, has not scored a power play goal in five games, heading into tonight. Tom Wilson and David Pastrnak got involved right in front of the benches, and a full-out melee broke out shortly thereafter. Both received matching minor penalties for roughing, but Tom Wilson was given an additional 10-minute misconduct penalty. After all was said and done, the Capitals were gifted another power play. Jakub Vrana shot the puck towards Rask, and tipped off Lars Ellers' stick past the Bruins goaltender, giving the Caps two goals on the night. With just over three minutes remaining, the Capitals elected to pull Samsonov, but David Krejci would score an empty-net goal. At the 17:47 mark, Garnet Hathaway got Washingtons' third goal on the board. Patrice Bergeron would score another empty-net goal with 28 seconds left. The Boston Bruins ultimately took down the Washington Capitals, 7-3, for just the second time in 18 meetings.
Line Combinations:
Washington Capitals
Ovechkin – Backstrom – Wilson
Vrana – Kuznetsov – Oshie
Hagelin – Eller – Panik
Leipsic – Dowd – Hathaway
Kempny – Carlson
Orlov – Jensen
Siegenthaler – Gudas
Holtby
Boston Bruins
Marchand – Bergeron – Pastrnak
DeBrusk – Krejci – Heinen
Nordstrom – Coyle – Bjork
Kuraly – Lindholm – Ritchie
Moore – McAvoy
Krug – Carlo
Grzelcyk – Clifton
Rask
TXHT's Three Takeaways of the Game
The Capitals desperately need to fix their penalty problem.
Is this the start of the Caps Annual Mid-Season Slump?
Washingtons' penalty kill is good, but the power play needs improvement.
Capitals Road Ahead
Washington Capitals (26-7-5) vs Columbus Blue Jackets (17-14-6)
Carolina Hurricanes (22-12-2) @ Washington Capitals (26-7-5)