Today is Thursday, November 29th, 2018, and these are your news and notes…
Yesterday's schedule of games…
DETROIT 4, St. Louis 3
Anaheim 3, FLORIDA 2
TORONTO 5, San Jose 3
TXHT's Toronto Maple Leafs contributor has your recap on the match-up between the Maple Leafs and the San Jose Sharks at the following page.
San Jose Sharks vs Toronto Maple Leafs – 11/29/2018 – Game Recap
Dallas 4, CALGARY 3 (OT)
COLORADO 6, Pittsburgh 3
Sidney Crosby scored all three of the goals for the Pittsburgh Penguins in their 6-3 loss at the Colorado Avalanche last night.
Tonight's schedule of games…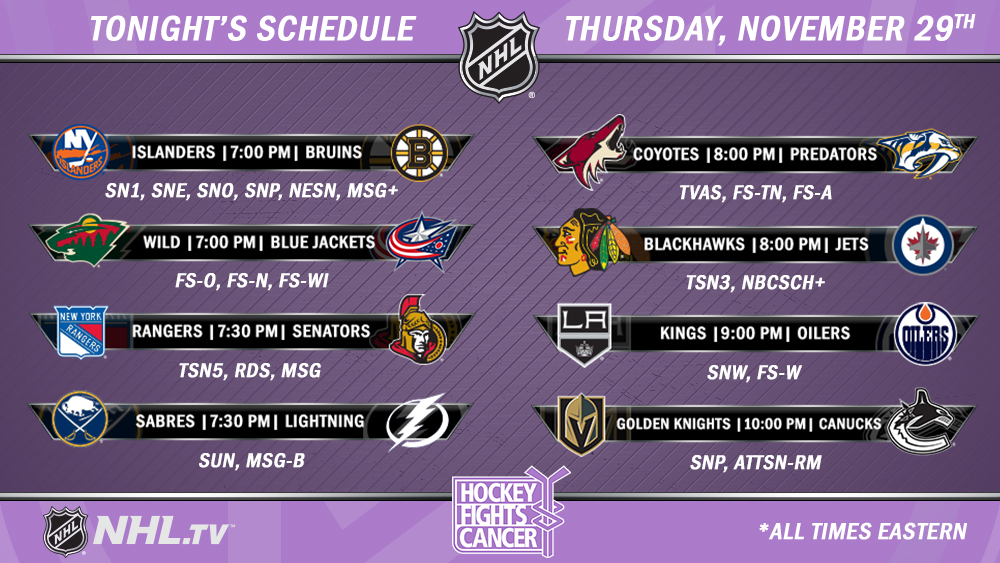 Image courtesy of NHL Public Relations and NHL
More news, notes, information, and stats can be found here…
In NHL news…
Elliotte Friedman of Sportsnet and Hockey Night in Canada released his "31 Thoughts" podcast earlier today.
In case you missed it, TXHT will not be on air again until January 2019.  More news and information can be found at the following page.
OFFICIAL! – TXHT Podcast Changing Formats, Date and Time in 2019