Today is  Tuesday, November 27th, 2018, and these are your news and notes.
Yesterday there were five games that took place.
-TORONTO 4, Boston 2
Boston Bruins David Pastrnak would score the only two goals in the Bruins 4-2 loss at the Toronto Maple Leafs last night.
TXHT's Toronto Maple Leafs contributor Steve Gardiner has your recap of the Maple Leafs versus the Boston Bruins at the following page.
Boston Bruins vs Toronto Maple Leafs – 11/26/2018 – Game Recap
-FLORIDA 4, New Jersey 3 (OT)
With the Florida Panthers win, they are 6-0-0 against the New Jersey Devils in their last six home contests dating back to April 11, 2015.
-Washington 4, NY ISLANDERS 1
The Washington Capitals Alex Ovechkin would score his 625th career goal last night, placing him into a tie with Jarome Iginla and Joe Sakic for 15th place on the all-time list.
Capitals F Tom Wilson would also score two goals in the contest to give Washington the 4-1 lead over the New York Islanders at Barclays Center last night.
TXHT has your recap of the Washington Capitals at the New York Islanders at the following page.
Game Recap – 11/26/2018 – Washington Capitals v. New York Islanders
-NY RANGERS 4, Ottawa 2
Columbus 7, DETROIT 5
For the third time this season, the Columbus Blue Jackets would score at least seven goals in a contest.  They are tied with the Tampa Bay Lightning for the highest such amount on the season.
There are 10 games on the NHL schedule tonight.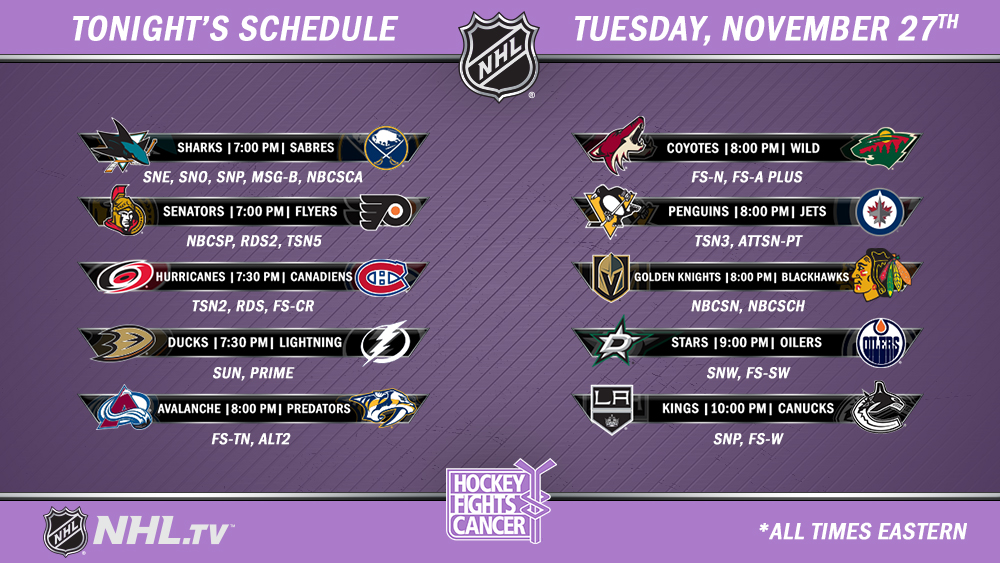 Image credit goes to NHL Public Relations and NHL
For more news, notes, info, and stats…
In NHL news today…
Elliotte Friedman released his weekly "31 Thoughts" blog post.  You can check that post out here.
Last night, Toronto Maple Leafs Patrick Marleau would play in his 1,600th NHL contest.
You can watch TXHT Live tomorrow night at 8 p.m. ET on Facebook Live.