| | | | |
| --- | --- | --- | --- |
| | Record | Goaltender | GAA / SV% |
| Washington Capitals | 2-0-1 | Vitek Vanecek | 3.36 / .868 |
| Buffalo Sabres | 1-2-0 | Linus Ullmark | 2.07 / .905 |
Predicted Goaltenders
The Washington Capitals are looking to kick off a six-game homestand with a win against the Buffalo Sabres. This will be the 3rd of eight games against the Sabres, and Washington already took the first two, in back-to-back wins. The Capitals, however, dropped their last two games against Pittsburgh, though they collected points in each loss.
---
The Washington Capitals dropped a 2nd straight game, to the Pittsburgh Penguins nonetheless, by a score of 5-4, in overtime, after 60 minutes deemed not enough to determine a winner, for a 2nd straight game. Tom Wilson was re-assigned to the top line with Alex Ovechkin and Nicklas Backstrom. TJ Oshie was demoted to the 3rd line, and Daniel Sprong took the 2RW spot.
The Capitals first period was astounding, with sound offensive and defensive play, and not a single penalty to be called against them. However, the 2nd period was abysmal, and the third wasn't all that much better. That performance translated over to shots on goal through all three periods as well; the Capitals held Pittsburgh to just 5 shots on goal in the 1st period but allowed 10 and 12 in the 2nd and 3rd periods, respectively. The first period saw four goals scored, the first coming at the 4:55 mark from Lars Eller. In the final three minutes, goals were scored from Colton Sceviour to make it 1-1, but just six seconds after the tying goal, Tom Wilson scored to make it 2-1. Then, with 17 seconds left in the period, Wilson would score again to give Washington a 3-1 lead. But then, Pittsburgh struck back in the 2nd, putting up three goals to tie it once again. Jake Guentzel (PPG, 5:45), Teddy Blueger (SHG, 15:07), and Evgeni Malkin (PPG, 17:15) each scored goals for the Pens, none of which came at even-strength. As if a botched 3-on-0 Capitals opportunity wasn't bad enough, Blueger's goal was a 5-on-3 short-handed goal as Washington had a two-man advantage. The third period was score-less and lacked a single power play, and thus, the Caps and Pens would require extra hockey to determine a winner yet again. Just 1:11 into the 3-on-3 overtime period, Sidney Crosby, who had tallied two assists already, scored the game-winning goal to seal a 2nd win against the Capitals. Vitek Vanecek got his second start for Washington and allowed 5 goals on 30 shots. Vanecek will likely start for the Capitals on Friday.
Tom Wilson and Alex Ovechkin are tied for most points on the Caps (5 pts), but Wilson, who set a career-high in goals, assists, and points last season, leads Washington with three goals. Despite their 13th worst faceoff percentage league-wide, Lars Eller boasts one of the better face-off percentages at 58%. For comparison's sake, Pierre-Edouard Bellemare (COL) has earned a 74.19 FO% (3GP).
On Wednesday, the Washington Capitals were assessed a $100,000 fine for COVID Protocol Violations, of which Evgeny Kuznetsov, Alex Ovechkin, Ilya Samsonov, and Dmitry Orlov were added to the Protocol Related Absences list.
Below, you can see the official statement from the Washington Capitals, as well as a note from captain Alex Ovechkin.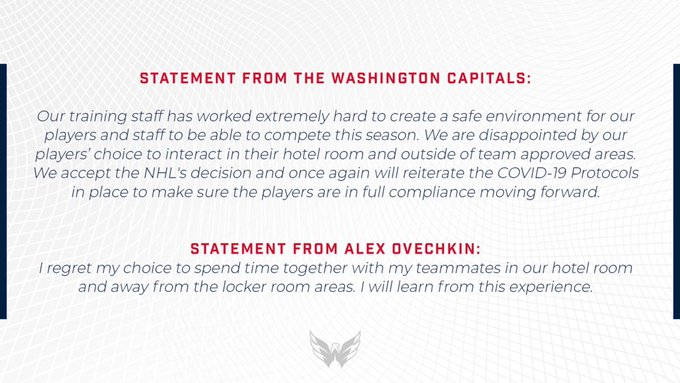 Samsonov tested positive for COVID-19, and per head coach Peter Laviolette, the Capitals expect without the four players for at least the next four games. Due to their absence, Washingon recalled G Craig Anderson, and assigned Connor McMichael to the taxi squad. Daniel Carr, Pheonix Copley, and Zach Fucale skated other members of the taxi squad including Brian Pinho and Martin Fehervary.
Without Ovechkin and Kuznetsov, the rearranged power play units are expected to resemble the following;
PP1: Backstrom, Oshie, Wilson, Vrana, Carlson
PP2: Eller, Panik, Sheary, Sprong, Schultz
---
The Buffalo Sabres were shutout by the Philadelphia Flyers, 3-0, after beating them 6-1 just the night before. The first period was goal-less, but the Flyers did receive one opportunity with the man-advantage, and the Sabres received two. The Sabres first power play in fact turned into a 5-on-3 when Michael Raffl went off for high-sticking just 61 seconds after Robert Hagg initially was called for interference. Travis Konecny scored the first goal of the game at the 17:51 mark of the middle frame to give a Flyers a 1-0 lead. The opening goal was Konecny's 4th in four games. Each team received a power play in the 2nd period (Voracek, tripping)(Ristolainen, roughing). Jakub Voracek, at the 13:43 mark of the 3rd period, made it 2-0 with his first goal of the season. Voracek did put up two assists against Pittsburgh, in Philadelphia's second game of the young season. With 2:40 remaining, Buffalo pulled their goaltender for the extra attacker. Unfortunately for the Sabres, Kevin Hayes tallied an empty-net goal to make it 3-0, Flyers. Buffalo peppered Philadelphia goaltender Brian Elliott with 40 shots on goal through 60 minutes, but went 0-for-3 with the man-advantage, and committed just 18 hits. Conversely, the Flyers threw a combined 61 hits over their two games versus Buffalo. It is worth noting that in the Sabres' 6-1 win over Philadelphia, Buffalo went 2-for-4 on the power play. Carter Hutton got the start for the Sabres, but left the game after the second period, and Jonas Johansson came in as relief for the third. Hutton had allowed just one goal on 20 shots, and Johansson had stopped 8 of 9 shots faced.
Jack Eichel and Taylor Hall lead the Sabres with 6 points (0G, 6A) (1G, 5A) through three games. Left-winger Victor Olofsson has two goals in four games, including a goal and one assist in Buffalo's first game against Washington (01/14/21). Of 18 skaters, 12 put up (-) ratings against the Flyers, and four put up (-2) ratings (Hall, Eichel, Rasmus Dahlin, Sam Reinhart).
The Buffalo Sabres have some new additions to their list of unavailable players. Kyle Okposo (IR, undisclosed), Carter Hutton (DTD, upper body), Riley Sheahan (DTD, face), and Linus Ullmark (DTD, personal) are currently listed as 'injured' and their status for Friday's game against Washington is undetermined.
---
NBC Sports Washington and MSG-Buffalo will be covering Capitals vs Sabres, from Capital One Arena in Washington, DC, with puck drop coming shortly after 7:00pm.
Support Kassie and TXHT!
Did you enjoy this article? Want more like this in the future? Consider supporting Kassie and TXHT by making a small $1 donation to keep the site up and the pieces coming!