| | | | |
| --- | --- | --- | --- |
| | 2019-20 Record | Goaltender | GAA / SV% (2019-20) |
| Washington Capitals | 41-20-8 | Ilya Samsonov | 2.55 / .913 |
| Buffalo Sabres | 30-31-8 | Carter Hutton | 3-18 / .898 |
Predicted Goaltenders
The 2020-21 NHL Season has arrived. It sounds weird, since none of the 56 games will be played in 2020, but for the sake of awards and record-keeping, we're including 2020 in the name. The last time the Capitals and Sabres played one-another was Washington's very last game prior to the suspension of the 2019-20 season. Washington lost that game, 3-2 in a shootout.
---
For Washington, Alex Ovechkin led his team in goals, again, after putting up 48 goals in 68 games, including career goal #700. The Great 8 tallied 1 goal and 2 assists in two games versus Buffalo last season, and though he was robbed of another 50-goal season, Ovi does have the most 40- and 50-goal seasons in NHL history. With 706 goals, he is 8th on the all-time list, and if he were to maintain his scoring of 0.613 goals per game through 56 games this season, Ovechkin would be one goal shy of Brett Hull (741G) for 4th all-time. Defenseman John Carlson, despite failing to nab the Norris Trophy accolades, again, ended his season with 75 points in 69 games. Arguably, however, Carlson's offensive prowess failed to make up for his lack of defensive skill, and Carlson was unable to tally a point in 2GP last season against the Sabres. For what it's worth, he did put up 13 points (1G, 12A) across eight Thursday night games, though.
Capitals' head-coach Peter Laviolette has confirmed that Ilya Samsonov will be the #1 goaltender in Washington, with Vitek Vanecek being the back-up. Vanecek has never started an NHL game, although he performed well in past seasons as the preseason goaltender. He was also named an AHL All Star for his top tier goaltending with the Hershey Bears. Craig Anderson will likely be included as part of the Caps' taxi squad, which for the purpose of this season, is a group of 4-6 eligible players who can fill in spots on the official roster if and when injuries occur.
---
Jack Eichel, Sabres leading goal-scorer and point-getter, has expressed his frustrations as Buffalo failed to qualify for the playoffs yet again, even with the expanded format. In a sobering interview last May, the center asserted that he was "fed up with losing" after a ninth straight year with no post-season appearances. Eichel tallied a career-high 36 goals last season, and 42 assists for a total 78 points in 68 games. Center Sam Reinhart is expected to put up another 20-plus goals after scoring at least 22 goals in each of his last three seasons. The former 2nd overall pick (2014) tallied 54% of his goals last season against Eastern Conference teams, though four were against Tampa Bay, of whom the Sabres will not play over this seasons' 56 games.
For the Buffalo Sabres, it is yet to be determined who will be the #1 and #2 goalie, as Carter Hutton and Linus Ullmark nearly split last season 50/50 in starts. Ullmark did put up better numbers last year, but with Buffalo playing Washington twice in as many nights, we will most likely see both he and Hutton in the back-to-back scenario.
---
The Washington Capitals will not benefit from the services of long-time Rangers goaltender Henrik Lundqvist who came over to the Caps as a free agent, as he underwent open heart surgery to repair a number of aortic complications. Michal Kempny, who recently experienced the birth of his first child with Nicola, also is unlikely to play with Washington this season after requiring surgery to repair an Achilles injury which plagued him last season.
The Buffalo Sabres will not have Zemgus Girgensons for at least six months, following a hamstring surgery to repair an injury sustained during Sabres practice on January 4, 2021.
Below, you will see the Capitals' opening night 23-man roster, confirmed by the team earlier Wednesday.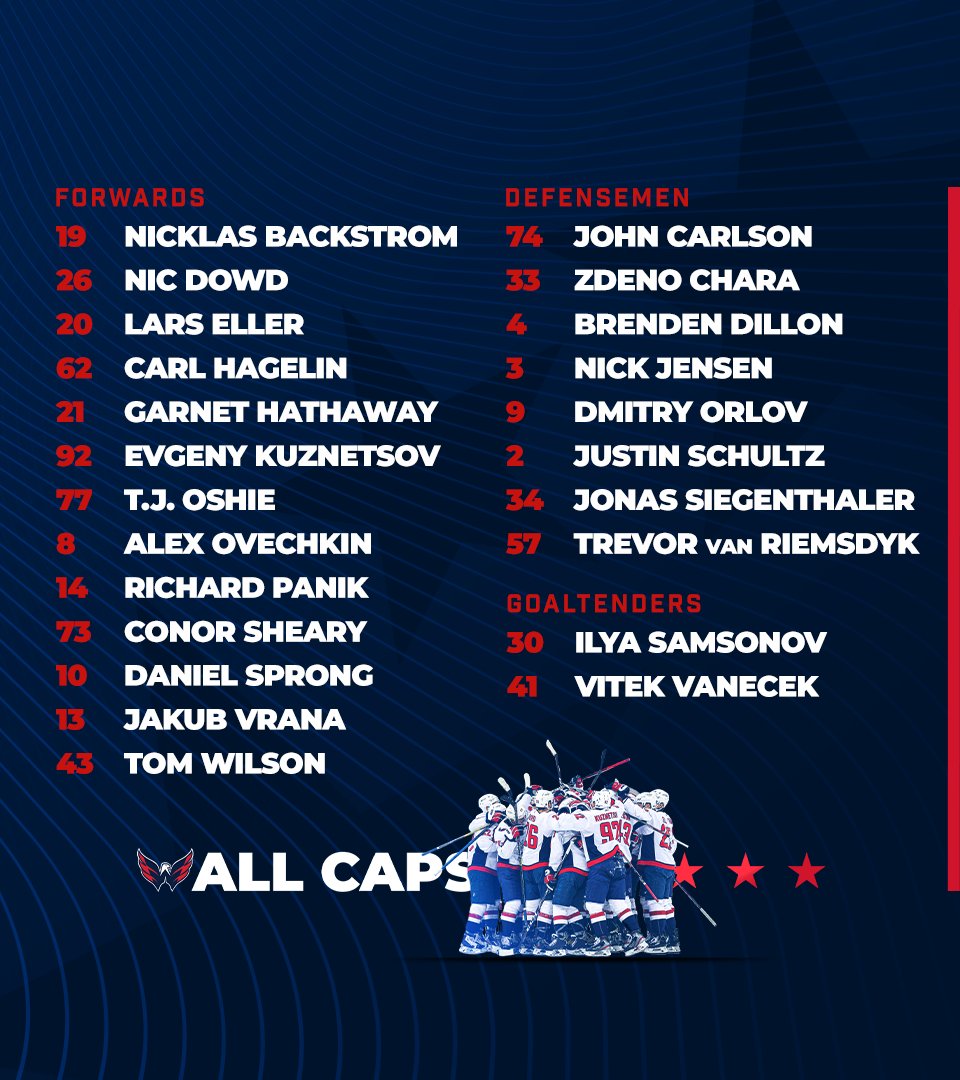 The Capitals' Taxi Squad:
F Daniel Carr
F Brian Pinho
D Martin Fehervary
G Pheonix Copley
G Zach Fucale
Goaltender Craig Anderson was signed and placed on waivers today with the expectation that he will join the taxi squad if he clears.
---
NBC Sports Washington, MSG Network- Buffalo, and ESPN+ will all be covering Caps vs Sabres, with puck drop shortly after 7:00pm.
---
Support Kassie and TXHT!
Did you enjoy this article? Want more like this in the future? Consider supporting Kassie and TXHT by making a small $1 donation to keep the site up and the pieces coming!
---
References:
NHL.com. (2021). John Carlson Stats and News. Retrieved from https://www.nhl.com/player/john-carlson-8474590?stats=splits-r-nhl&season=20192020.
TheScore. (2021). Buffalo Sabres News and Stats. Retrieved from https://www.thescore.com/nhl/teams/2
TheScore. (2021). Washington Capitals News & Stats. Retrieved from https://www.thescore.com/nhl/teams/15.