#5 Edmonton Oilers (37-25-9) vs. #12 Chicago Blackhawks (32-30-8)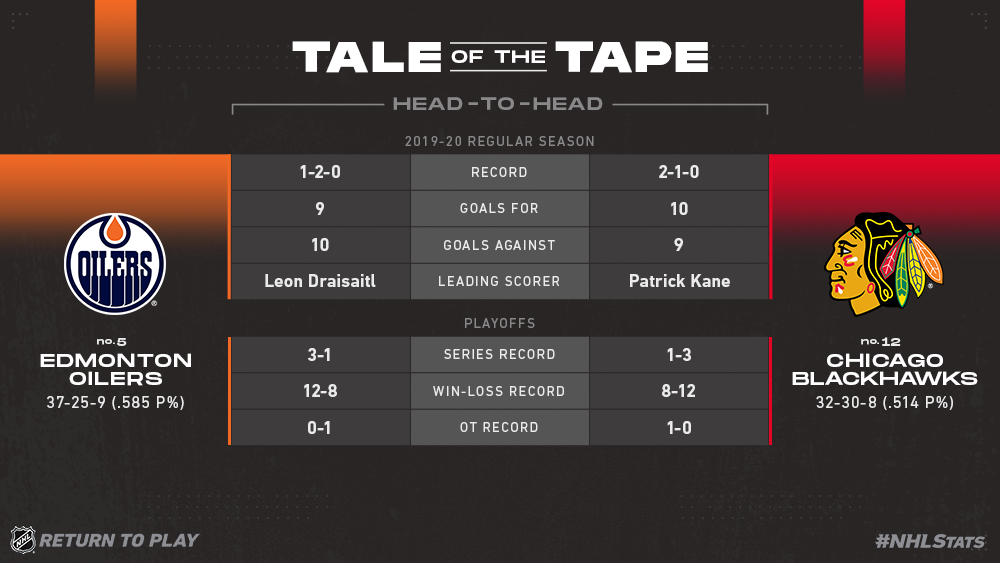 The Edmonton Oilers and Chicago Blackhawks are back in the postseason in this best-of-five match-up.
On the season, the Chicago Blackhawks and Edmonton Oilers played three times with the Blackhawks winning two out of the three match-ups.
Schedule of Games (all games in Edmonton):
Game 1: Saturday, August 1
Game 2: Monday, August 3
Game 3: Wednesday, August 5
Game 4: Friday, August 7 (if necessary)
Game 5: Saturday, August 8 (if necessary)
What to look for:
EDMONTON:  Oilers defenceman Mike Green and forward Joakim Nygard are expected to return from their respective injuries (Green: knee; Nygard: Hand).  Green was acquired by the Red Wings on February 24th in a trade, missed the last seven games with Edmonton and Nygard missed the last 21 contests.
Update:  Mike Green is now out for the Edmonton Oilers sighting concerns around his family and COVID-19.
CHICAGO:  Defenceman Calvin could make his return to the ice, after having surgery on his shoulder on December 27.  The timeline for recovery was 4-5 months from that surgery.  Andrew Shaw (concussion symptoms) and Zack Smith (hand) are unknowns at the moment because of their respective injuries.
Analysis:  Edmonton had issues playing against Chicago this season with the lone win came without having their captain, centre Connor McDavid in the lineup.  The Oilers have the advantage on their side when it comes to special teams.  Edmonton is first in the league on the power play (29.5%) and second on the penalty kill (84.4%).  Edmonton also has their two top scorers playing with F Leon Draisaitl (110 pts) and Connor McDavid (97 pts).
Chicago's Patrick Kane and Jonathan Toews have 233 combined playoff points, which ranks third among pairs of current teammates.  Chicago was 28th on the power play (15.2%) but were eighth on the penalty kill (82.1%).  The Blackhawks have only one series win against Edmonton, which came as a four-game sweep in the 1992 Conference Finals.  Chicago has played 43 neutral-site games in the regular season (9-24-10), with nine of those contests coming in the 1928-1929 season, which was supposed to be the opening season of the now-defunct Chicago Stadium.
Other Stats and Information:
Patrick Kane (2015-16), Connor McDavid (2016-17 & 2017-18), and Leon Draisaitl (2019-20) have all won the Art Ross Trophy over the past five seasons.
In 2014-15, McDavid and Alex DeBrincat have combined for nearly 300 points across the regular season and playoffs as teammates with the Erie Otters in the Ontario Hockey League.  McDavid would be named Canadian Hockey League Player of the Year, whereas DeBrincat would be named Rookie of the Year.
PREDICTION:  Edmonton in 4
*All logos and images are the property of the NHL, NHL Public Relations, and their respective owners
Sponsored By:
Just Hockey Cards by Donald Gakenheimer – – For Deals on Hockey Cards email him today at Blake4AV@aol.com