Washington Capitals (33-11-5) vs New York Islanders (28-15-4)
TLDR; Capitals allow four unanswered, come-back to tally five to defeat the Islanders 6-4, Ovechkin scores 2nd hat-trick in two games to tie, pass Lemieux, ties Yzerman for 9th on All-Time List.
First Period:
Today's Marquee Matinee was Washington's final game before the All-Star Break, and if Todd Reirdens' squad wanted to come away with a redemption win over the Islanders, it was imperative for them to forget about the impending bye week. Veteran goaltender Braden Holtby earned his first start since allowing four goals by the New Jersey Devils back on January 11th. Heading into this afternoon, Braden had just two wins in his last eight games. However, he is 16-6-3 all-time against the Islanders. Nick Jensen, who has been less than great, forced Holtby to make an impressive save early on, and Washington definitely fed off that. The Capitals received the first power play of the game as Jordan Eberle went off for tripping, but the man-advantage was short-lived as another questionable penalty came shortly thereafter, this time against Alex Ovechkin (hooking). Washington kept the Isles' power play stagnant, and just about halfway through the first frame Alex Ovechkin tallied his 32nd goal of the season, 690th of his career, and officially tied Mario Lemieux on the all-time list. Nicklas Backstrom marked his 250th career assist on the goal. Brock Nelson, at the 13:11 mark, potted his 19th of the season, but the Capitals decided to challenge the goal for off-sides. Washingtons' video review team has been perfect all season, but unfortunately, the Caps lost this coaches' challenge. As a result, they received a two-minute penalty for delay of game, and Ovechkin served the penalty. Moments later, Carl Hagelin, the Capitals best penalty-killer, was called for interference. The Islanders were gifted a two-man advantage for 1:37, and they remained in the Caps defensive zone for that entire time. Washington has killed off 16 straight penalties, but moments after the successful PK, Casey Cizikas broke the tie, giving New York the lead heading into the first intermission. Although Jonas Siegenthaler snapped his stick, rendering him useless, it doesn't matter if you successfully kill of a penalty when you allow a goal against immediately after.  
Second Period:
The Capitals failed to convert on an additonal three power play opportunities in the middle frame. Right off the opening face-off, play remained in the Caps' defensive zone for the majority of the period. Every time Washington cleared the zone, the puck ended right back up on their side of the ice. Early on, Radko Gudas and Matt Martin exchanged some pleasantries, and received matching roughing penalties. Martin was assessed an additional two minute penalty for unsportsmanlike conduct, and therefore the Caps played with the man-advantage, but did not score. After the Isles successfully killed off the Martin penalty, Brendan Leipsic took a bad roughing penalty. One minute and four seconds into the Isles power play, Jordan Eberle scored the first power play goal Washington has allowed in 16 shorthanded situations, giving New York a 3-1 lead. Leo Komarov went off for boarding at the 11:11 mark, and as that penalty expired, Nick Leddy was called for slashing. The Capitals had opportunities to get back into this one, but they simply didn't play like they wanted this win. With just under three minutes left in the period, Devon Toews improved the Isles lead to a score of 4-1. Under Barry Trotz, the Islanders are 62-4-4 when scoring four or more goals. The odds were certainly stacked against Washington.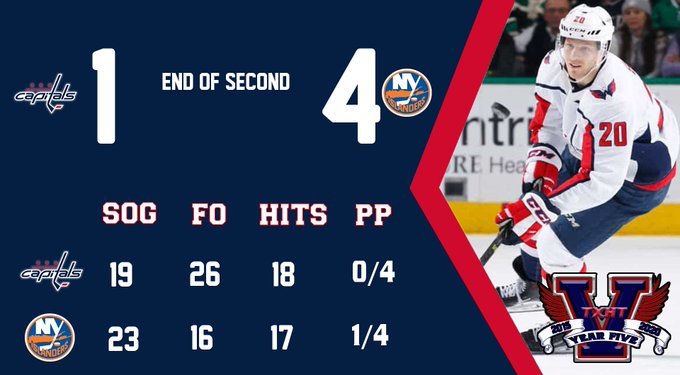 Third Period:
In hopes of salvaging their afternoon, the Capitals elected to pull Holtby and start the third period with Ilya Samsonov in net. Evgeny Kuznetsov was demoted to the third line center position, and Eller promoted up. A timely save early in the period shifted momentum in favor of the Capitals. At the 2:33 mark of the third, Carl Hagelin scored his 2nd goal in two games, cutting the Isles lead in half. Less than three minutes later, Alex Ovechkin tallied his 2nd goal of the game, passing Lemieux on the all-time list. Ovechkin now has seven goals in three games, and sits in the top 10 all-time. Five minutes left and Washington within one goal of tying the game, Tom Wilson did just that. His 14th of the season was the game-tying goal. After allowing four unanswered goals, Jakub Vrana all but completed another Caps comeback with his 22nd of the season. Vrana's goal would eventually be the game-winner. With 56 seconds left, Alex Ovechkin scored his 3rd of the game, an empty-net goal, and completed his 2nd hat-trick in two games, tying 9th Steve Yzerman on the all-time list. Another thrilling, though unlikely, comeback from the Washington Capitals led to yet another defeat over the New York Islanders at Nassau Coliseum. Ilya Samsonov didn't allow a single goal on seven ­high-danger shots by New York, and this win marked his 15th of the season.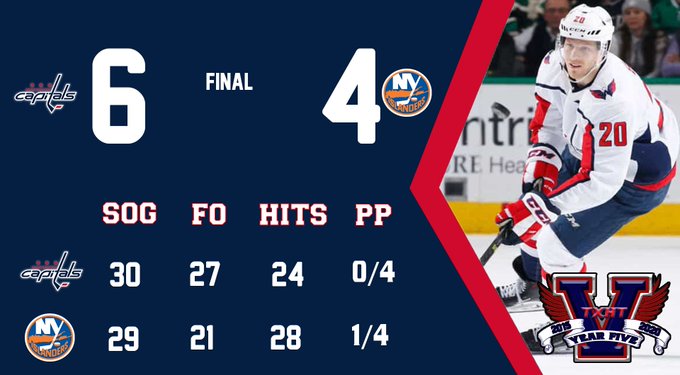 Line Combinations:
Washington Capitals
Ovechkin – Backstrom – Wilson
Vrana – Kuznetsov – Oshie
Hagelin – Eller – Panik
Leipsic – Dowd – Hathaway
Kempny – Carlson
Orlov – Jensen
Siegenthaler – Gudas
Holtby/Samsonov (in relief)
---
New York Islanders
Lee – Barzal – Eberle
Beauvillier – Nelson  -Bailey
Johnston – Brassard – Kuhnhackl
Martin – Cizikas – Komarov
Leddy – Pulock
Toews – Mayfield
Dobson – Boychuk
Varlamov
---
TXHT's Three Takeaways of the Game
 Capitals power play needs retooling; not just swapping out one player for another.
 Killing off a penalty doesn't mean anything, when you allow a goal immediately after.
 Ilya Samsonov needs to be starting more games, rather than just coming in for relief.
Capitals Road Ahead
2020 NHL All-Star Weekend; The Capitals are once again, well-represented. Braden Holtby, John Carlson, and TJ Oshie will play for the Metropolitan Division, and for the 2nd consecutive year, Caps head coach Todd Reirden will coach the Metropolitan Team at the All-Star Game.
Capitals captain Alex Ovechkin, as punishment for electing to skip the All-Star events, will serve his one-game suspension against the Montreal Canadiens on January 27th.