After a lengthy absence, today is Saturday, March 30th, 2019, and these are your news and notes from yesterday.
There were six NHL games yesterday.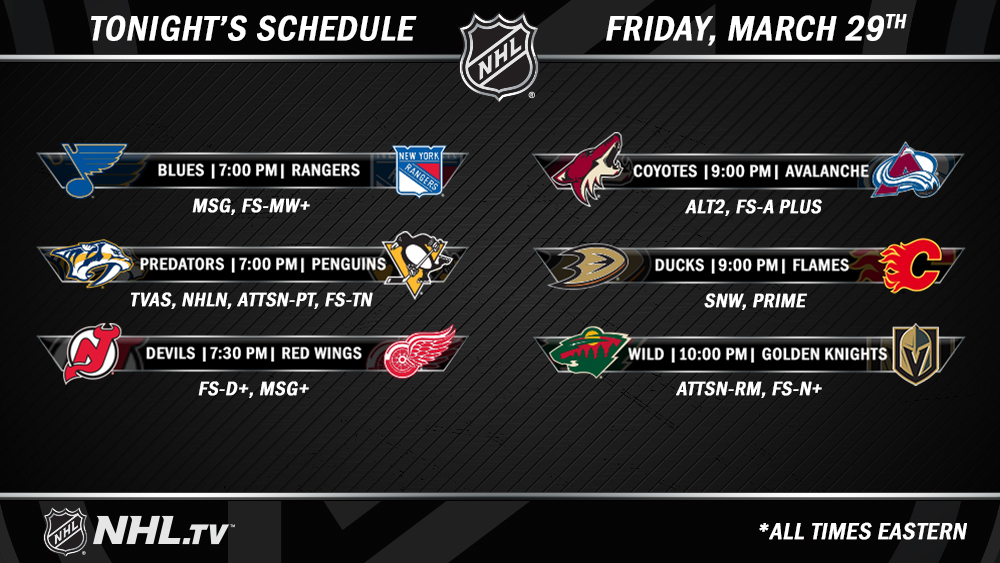 *Image is the property of the NHL, NHL Public Relations, and their respective owners
Yesterday's Results (Home team is in CAPS):
The New York Rangers would take down the St. Louis Blues with the 4-2 win last night.
Despite the Blues loss, St. Louis has reached the Stanley Cup playoffs for the seventh time in eight seasons.
Per the NHL, St. Louis is now the 35th team in NHL history to reach the postseason after being last in the overall league standings at the 20th game played.
Highlights for the Nashville Predators at the Pittsburgh Penguins
Infographic for the Pittsburgh Penguins game from the 3-1 loss to the Nashville Predators
The Detroit Red Wings shutout the New Jersey Devils yesterday with a 4-0 win last night.
The Colorado Avalanche would take down the Arizona Coyotes by the score of 3-2 in the shootout frame yesterday.  The win for Colorado puts them at 3 points ahead of the Coyotes for the last wild-card spot in the Western Conference playoff picture.
With the win by the Avalanche, goaltender Philipp Grubauer is now 6-0-1 in his last seven consecutive starts and would reach a career high with 17 wins on the season.
Calgary's Sean Monahan led all Flames skaters last night with two goals and two assists to establish a new career high with his 32nd and 33rd goal on the season.
The infographic for the Calgary Flames 6-1 win over the Anaheim Ducks last night in Calgary.
The Minnesota Wild would take down the Vegas Golden Knights with the 3-2 win.
Minnesota's goaltender Devan Dubnyk would reach the 30 win mark for the fifth consecutive season with the win last night.
Despite the loss, the Vegas Golden Knights will return to the Stanley Cup playoffs.
Today's NHL Schedule of Games: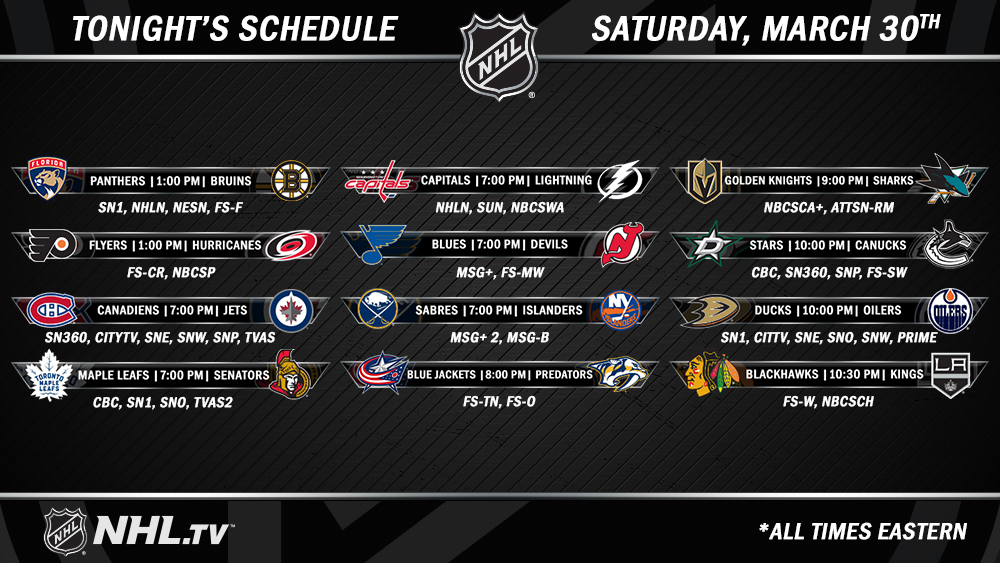 *Image is the property of the NHL, NHL Public Relations, and their respective owners

*Image is the property of the NHL and their respective owners
Today's NHL playoff clinching scenarios are as follows:
-Toronto will clinch a playoff berth if they get at least a point against the Ottawa Senators OR if the Montreal Canadiens lose to the Winnipeg Jets
-The New York Islanders will clinch a playoff berth with the following scenarios:
They get a win over the Buffalo Sabres OR
They get a point AND Montreal loses OR
Montreal loses in regulation
-The Calgary Flames, who are not playing tonight, will clinch:
The Pacific Division if the San Jose Sharks lose to Vegas Golden Knights in regulation
The Western Conference if the San Jose Sharks lose AND the Winnipeg Jets also lose
-The Dallas Stars will clinch a berth in the 2019 Stanley Cup playoffs if they defeat the Vancouver Canucks