Today is Saturday, February 23rd, 2019, and these are your news and notes.
There were five contests that took place yesterday.
The Columbus Blue Jackets would take on the Ottawa Senators last night and would come away with another shutout victory on the season.  The Blue Jackets would go on to outshoot the Senators in this contest with 40 shots on goal to Ottawa's 22.
This would be the Senators third consecutive loss and in their last ten games, Ottawa has a record of 3-7-0.
In a hard fought contest last night in Detroit, the Minnesota Wild would go on to defeat the Detroit Red Wings with the 3-2 win last night.  The win for the Wild movers them to a record of 29-27-6, while the Red Wings fall to a record of 23-30-9.
In another hard fought battle last night, the Colorado Avalanche would face off against the Chicago Blackhawks and the Avalanche would escape with a 5-3 win.  Chicago would tie the game a 3 a piece at the 10 minute mark in the third period but would be able to mount a comeback against Colorado.
Colorado would move to one point behind the Minnesota Wild and Chicago with the loss is now three points behind Minnesota for the final wild card spot in the Western Conference.
The Anaheim Ducks woes on the season would continue with the loss last night to the Calgary Flames.
With Calgary's win, they continue to hold the top spot in the Pacific Division with a record of 38-16-7, good for 83 points.
The Winnipeg Jets would go on to double up the Vegas Golden Knights 6-3, thanks to two goals from Winnipeg's Patrik Laine.
Winnipeg holds on to a slim lead in the Central Division standings thanks to the win.
The Golden Knights hold on to the third spot in the Pacific Division, despite the loss to the Jets last night.
There are 11 games on the NHL schedule today including the 2019 NHL Stadium Series between the Pittsburgh Penguins and Philadelphia Flyers at Lincoln Financial Field in Philadelphia, Pennsylvania tonight at 8 p.m.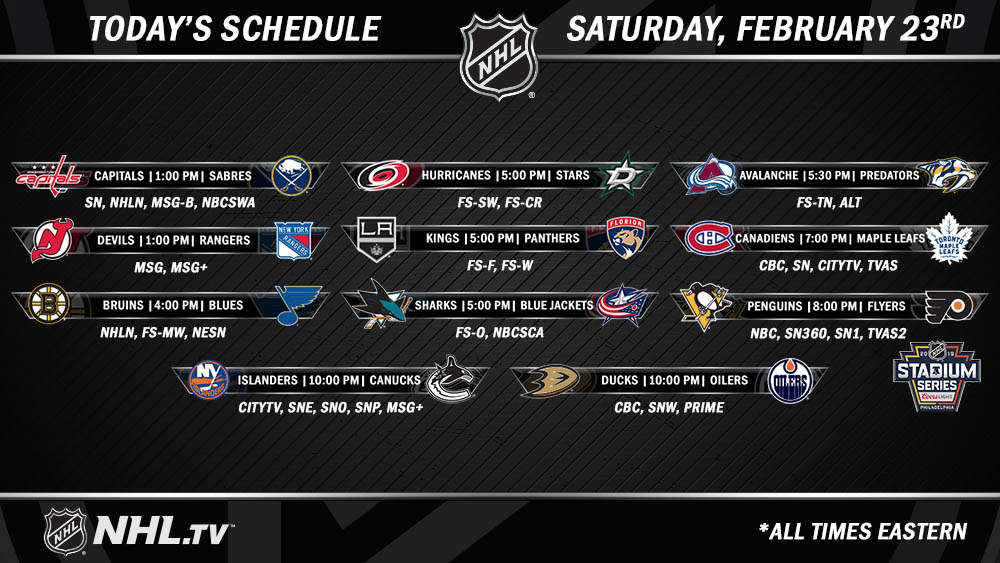 *schedule image is the property of the NHL, NHL Public Relations, and the respective owners
For more news, notes, information, and stats….
Today in the NWHL…
The Metropolitan Riveters travel to the HarborCenter to take on the Buffalo Beauts at 5 p.m., ET.  This contest can be seen, as all NWHL games, on NWHL.zone/watch