Today is Saturday, January 12th, 2019, and these are your news and notes
There were four contests in the NHL yesterday.
CAROLINA 4, Buffalo 3
Jeff Skinner would join the 30 goal maker in this contest and in doing so would be the fifth different Buffalo Sabres player to get 30 goals in fewer than 45 games played with the franchise.  He would also be the third player to achieve this mark in his first season with the Sabres
Carolina Hurricanes Justin Williams would become the third player in franchise history to be aged 37 years or older to record goal streaks of at least four games.
Buffalo @ Carolina: Game Summary
WINNIPEG 4, Detroit 2
Winnipeg Jets Bryan Little would register his 500th career point when he scored his ninth goal of the season at the 4:51 mark of the second period.
Detroit @ Winnipeg: Game Summary

CALGARY 4, Florida 3
The Flames would have four straight goals and would go on to defeat the Florida Panthers and improve their record in their last nine contests to 7-1-1 and 4-0-0 in the last four games.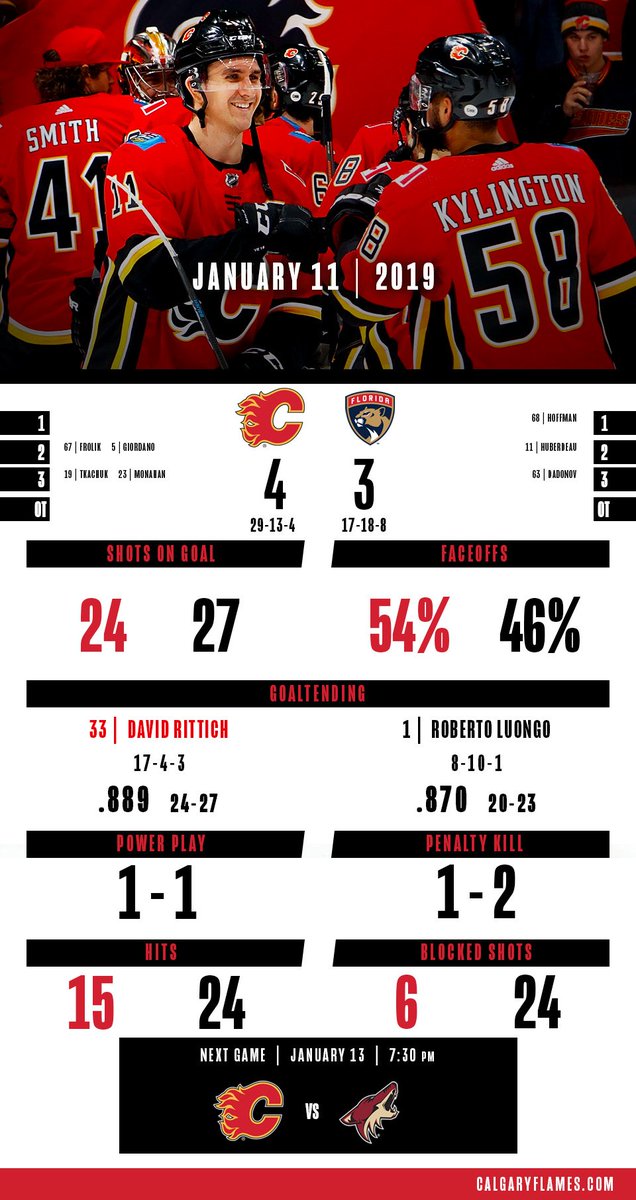 Florida @ Calgary: Game Summary
Pittsburgh 7, ANAHEIM 4
The Pittsburgh Penguins would defeat the Anaheim Ducks in Anaheim last night thanks to a hat trick from Penguins Jake Guentzel.  Pittsburgh Tanner Pearson would also score twice in the third period to give the Penguins the 7-4 win over the Ducks.
Pittsburgh would win their sixth consecutive road game, the longest since an eight game road win streak that occured late during the 2015-16 season.
Pittsburgh @ Anaheim: Game Summary
There are 12 games on the NHL schedule…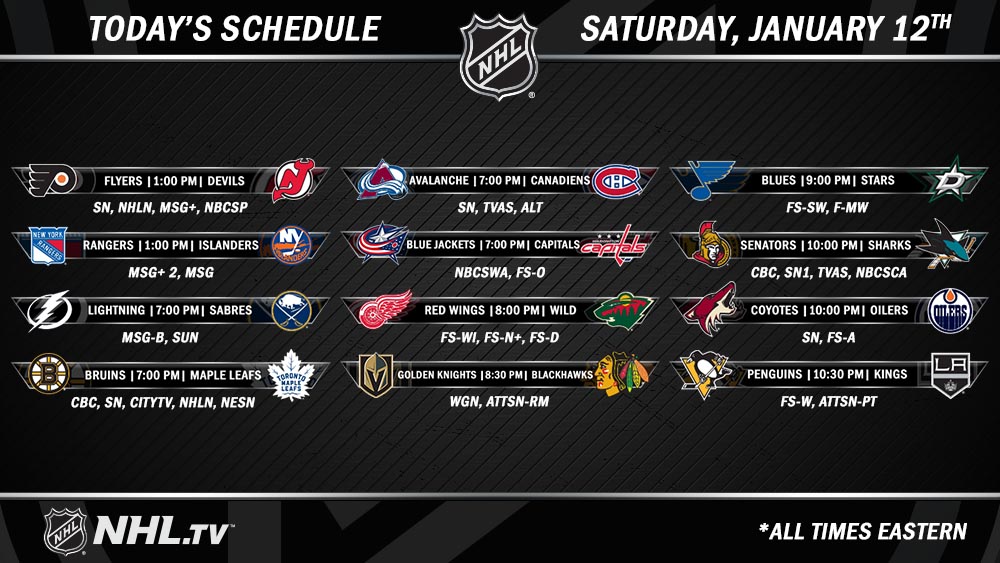 Today's NHL European Game of the Week pits the New York Rangers taking on the New York Islanders.
For more news, notes, information, and stats…
This weekend in the NWHL…
The contest between the Buffalo Beauts and the Metropolitan Riveters is this week's NWHL Twitter Game of the Week
In NHL News…
Rick Nash announced yesterday that he would be forced to retire due to the concussion he suffered in a game last March.  Nash ends his career having played in 1,060 games, scoring 437 career goals and amassing 805 points.
On Wednesday, Sportsnet and Hockey Night in Canada's Elliotte Friedman released his weekly "31 Thoughts" article and the next day, the "31 Thoughts" podcast was released.
TXHT has an all new episode today which you can check out at the following page.  This week's episode contains NWHL news and much more.