Today is Thursday, December 20th, 2018, and these are your news and notes.
There were two contests last night in the NHL.
Pittsburgh 2, WASHINGTON 1
Pittsburgh's Sidney Crosby recorded his 23rd multi-point game against the Capitals in their second third match-up of the season and would lift the Penguins past Washington with the 2-1 win last night at Capital One Arena.
Crosby has more multi-point games against the Islanders and the Flyers than he does against the Capitals.
Penguins goaltender registered 31 saves in the contest against the Capitals and has six career wins against the Capitals and is tied for the most wins with Columbus.
With his multi-point game, Crosby now has 344 on his career.  He is 36 behind Joe Thornton for the most among active NHL players.
TXHT has your full recap of the contest between the Capitals and the Penguins at the following page.
Game Recap – 12/19/2018 – Pittsburgh Penguins v. Washington Capitals
With Colorado's win over the Montreal Canadiens, Colorado's Mikko Rantanen, Nathan MacKinnon, and Gabriel Landeskog have a combined 155 points thus far on the season.
The total is 25 higher than the Tampa Bay Lightning's trio of Steven Stamkos, Nikita Kucherov, and Braden Point.
Gabriel Landeskog would go on to score the game-winner in this contest, his seventh on the season.  With that seventh game-winning goal, Landeskog leads all players this season, and it is the most game-winners thus far in his career.
Tonight's schedule of contests: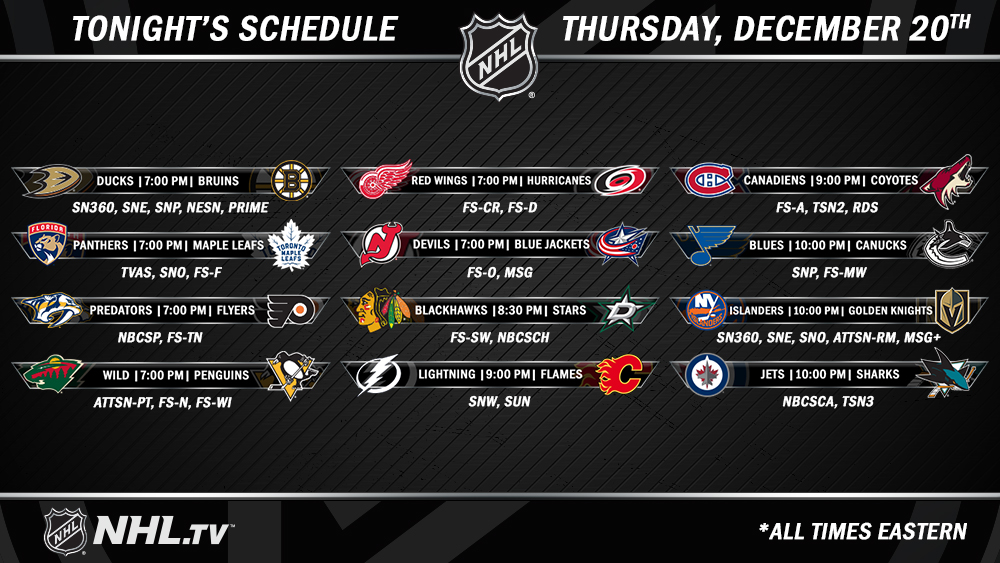 For the Toronto Maple Leafs, check out TXHT's Gameday Preview of the contest between the Maple Leafs and the Florida Panthers.
The Gameday Preview was written by TXHT's Maple Leafs writer, Steve Gardiner.
Florida Panthers vs Toronto Maple Leafs – 20/12/2018 – Game Day Preview
In NHL News…
Elliotte Friedman of Sportsnet and Hockey Night in Canada released his weekly "31 Thoughts" article, which you can read below.
In the NWHL….
Today the 2018 NWHL Draft concluded with rounds 3-5.
Below are the results from all five teams.