Today is Tuesday, December 18th, 2018, and these are your news and notes.
There were five contests taking place in the NHL last night.
The Anaheim Ducks faced off against the Pittsburgh Penguins last night and would come away with the 4-2 win.  With this win, the Ducks have won six consecutive road games, as well as their ninth game out of the last ten contests.
For the Pittsburgh Penguins, this loss would give them a record of 15-12-6 (36 points), and places them in fourth place in the Metropolitan division.
The Columbus Blue Jackets faced off against the defending Western Conference champion Vegas Golden Knights and would come away with the 1-0 win.
Columbus Blue Jackets goaltender Sergei Bobrovsky would go on to register his 13th shutout since the start of the 2016-17 season and is tied with Pekka Rinne for the most shutouts in that time span.
Blue Jackets captain Nick Foligno would score the lone goal in the third period.  This contest would also mark the 800th NHL game for Foligno.
The Boston Bruins would visit the Montreal Canadiens and would come out on Montreal with a 4-0 victory.
With this win, the Bruins have won the last five contests against the Canadiens when they are the visitors.
Bruins goaltender Jaroslav Halak would turn aside all 22 shots he faced whereas Canadiens goaltender Carey Price had 31 saves on 35 save opportunities.
Ottawa Senators Brady Tkachuk would register his tenth career goal as a Senator in his 24th game played with the club last night.
Ottawa rookie defenceman Max LaJoie would also register his seventh goal in this contest, good for a tie for third place all-time in Senators history for most goals by a rookie defenceman.
Also for Ottawa, the rookies on this team account for most points combined between all players across the League thus far during the 2018-19 season.
Thoms Chabot would seal the win for the Senators in the overtime frame.
NY Islanders goaltender Thomas Griess would make 30 saves in the contest to give the Islanders the 4-1 win over the Colorado Avalanche last night.
Avalanche goaltender Semyon Varlamov would make 17 saves on 21 save opportunities.
Two of the Islanders goals would come on the power-play in this contest and the penalty kill would end up playing a big factor in this win to start off the road trip for the Islanders in this contest.
There are 11 contests taking place across the NHL tonight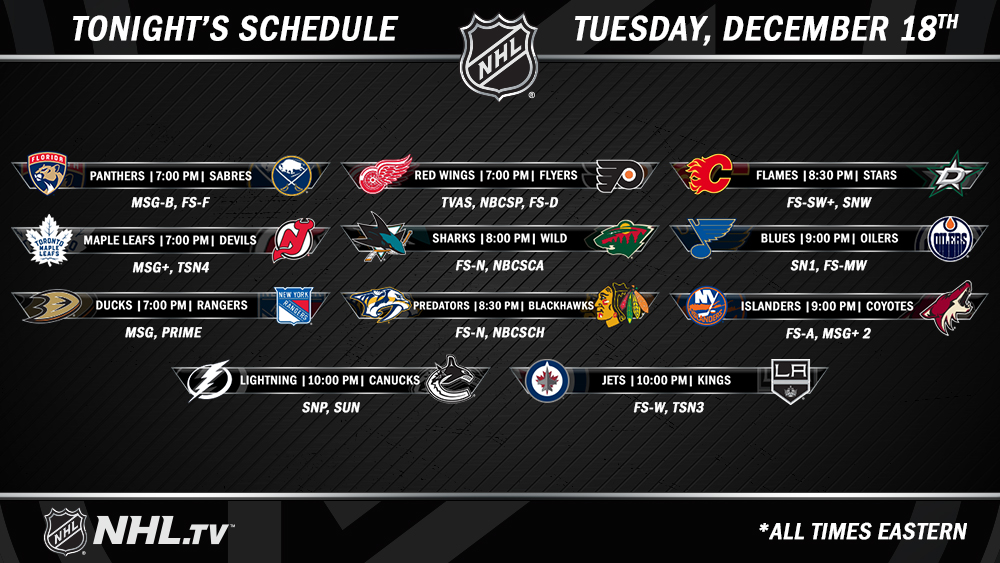 *image courtesy of the NHL Public Relations Department and the NHL
For tonight's contest between the Toronto Maple Leafs and the New Jersey Devils, TXHT's Maple Leafs writer, Steve Gardiner, has a preview of this contest.
You can read the preview of the contest at the following page.
Toronto Maple Leafs vs New Jersey Devils – 17/12/2018 – Game Day Preview