It is Monday, December 17th, 2018, and these are your news and notes.
There were seven contests across the NHL yesterday…
The Vegas Golden Knights would defeat the New York Rangers in overtime yesterday afternoon with Vegas' Alex Tuch would score the game-winner at 2:11 in the overtime frame.
Carolina Hurricanes G Petr Mrazek would go on to have a 23 save performance to seal the shutout victory for the Hurricanes.
The Calgary Flames would score a shorthanded goal for the third consecutive game for the eighth time in franchise history and would go on to defeat the St. Louis Blues 7-2 in St. Louis last night.
Buffalo's Jack Eichel now has five regular-season games of at least four points before his 23rd birthday and joins four other Buffalo Sabres for this mark in franchise history.
San Jose Sharks D Brent Burns became the 38th player in League history to be listed as a defenceman to register at least 600 points in the contest against the Chicago Blackhawks.
Winnipeg's Mark Scheifele would score the game-winner in the overtime frame with 42 seconds left to seal the 5-4 win over the Tampa Bay Lightning.
Vancouver's rookie Elias Pettersson extended his point streak to seven games and now leads all rookies with 35 points on the season in 30 games played.
There are five games taking place tonight in the NHL…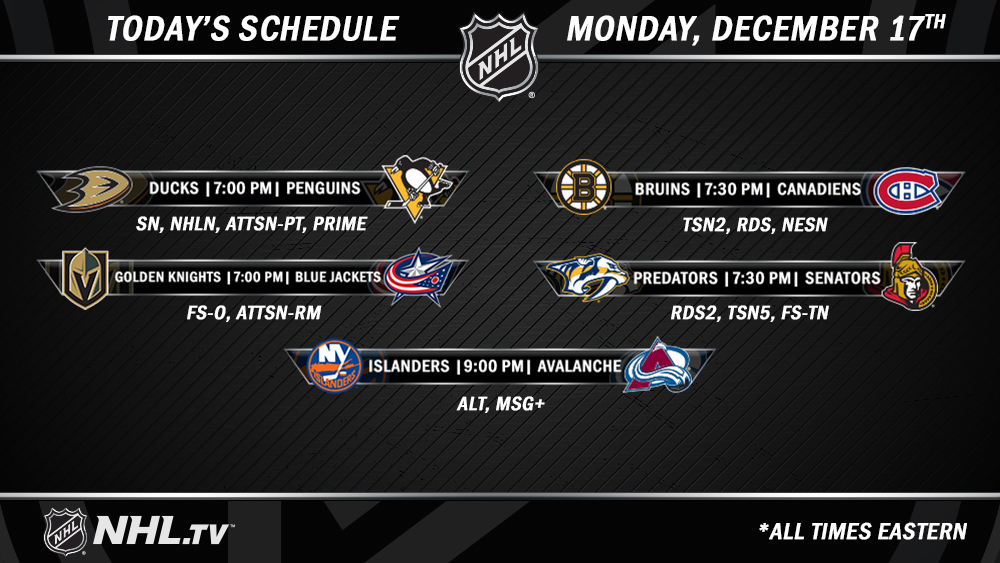 Today in NHL news…
The NHL today announced the Three Stars of the Week for the week ending December 16th.
The Philadelphia Flyers announced earlier today that Head Coach Dave Hakstol has been relieved of his duties effective immediately and that Scott Gordon will be the head coach on an interim basis.