Today is Thursday, December 13th, 2018, and these are your news and notes (December 10th-December 12th)…
On Monday, December 10th, 2018, there were four contests…
Pittsburgh 2, NY ISLANDERS 1 (SO)
DETROIT 3, Los Angeles 1

TAMPA BAY 6, NY Rangers 3

SAN JOSE 5, New Jersey 2
On Tuesday, December 11th, 2018, there were ten contests…
BOSTON 4, Arizona 3
BUFFALO 4, Los Angeles 3 (OT)

Toronto 4, CAROLINA 1

Vancouver 3, COLUMBUS 2
WASHINGTON 6, Detroit 2
ST. LOUIS 4, Florida 3
NASHVILLE 3, Ottawa 1
MINNESOTA 7, Montreal 1

WINNIPEG 6, Chicago 3

Edmonton 6, COLORADO 4
Yesterday in the NHL there were four contests…
Yesterday's contests featured a combined 34 goals between all clubs.  Two of the four contests featured come-from-behind wins, two hat-tricks, and milestones that were achieved by two captains.
Vegas 3, NY ISLANDERS 2
CHICAGO 6, Pittsburgh 3
CALGARY 6, Philadelphia 5 (OT)
Moments after this goal, Johnny Gaudreau would net the game winner.
ANAHEIM 6, Dallas 3
Tonight there are eight games on tap…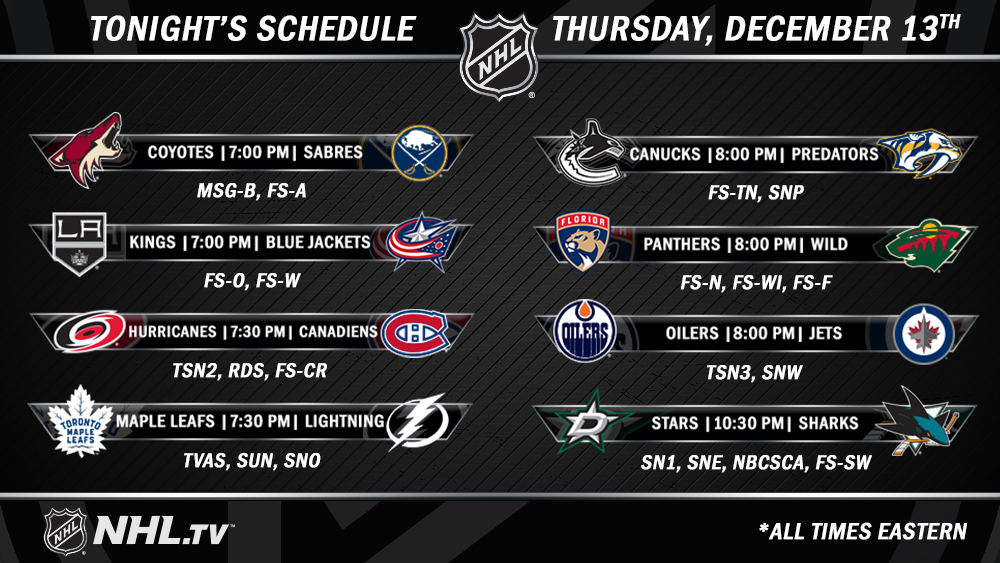 In NHL news…
The NHL today announced that the "Road to the Winter Classic" docuseries will make its return on December 19th.