Today is Saturday, December 8th, 2018, and these are your news and notes.
DALLAS 3, San Jose 2
The Dallas Stars faced off against the San Jose Sharks last night and would win this contest 3-2.
Dallas is 10-3-1 when playing games at home on the season thus far.
Dallas has also won their last four contests.
St. Louis 1, WINNIPEG 0
With this 1-0 St. Louis Blues win, they would snap the four-game win streak for the Winnipeg Jets.
EDMONTON 7, Minnesota 2
Edmonton Oilers Connor McDavid now has 33 games in his career where he has at least three points in a game before his 22nd birthday.
McDavid joins four other players for this exclusive list.
With this win, Edmonton has won their last four home games and six out of the last seven.
Carolina 4, ANAHEIM 1
The Carolina Hurricanes took on the Anaheim Ducks last night and would end up winning the contest 4-1.
Sebastian Aho would score the empty net goal to seal the win for the Hurricanes late in the third period.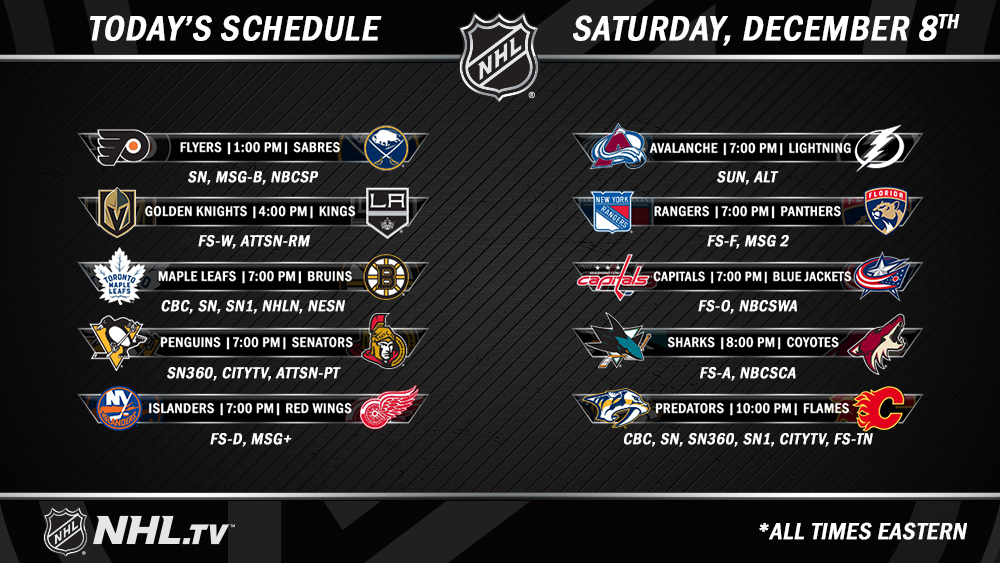 This week's NHL European Game of the Week is the contest between the Philadelphia Flyers and the Buffalo Sabres
In NHL news…
The NHL's Department of Player Safety announced yesterday that Calgary Flames D Mark Giordano has been suspended for two games for kneeing Minnesota Wild's F Mikko Koivu.
Also, the NHL's Department of Player Safety announced that Calgary Flames F Ryan Lomberg has been suspended for one game for leaving the player's bench on a legal line change to start an altercation.
This is additional discipline for the automatic suspension that was announced earlier yesterday.
Today in the NWHL…
The Buffalo Beauts take on the Connecticut Whale at HarborCenter today at 6 p.m., ET.
In NWHL news today…
The Buffalo Beauts announced that head coach Ric Seiling and assistant coaches Craig Muni have been relieved of their coaching duties.
https://twitter.com/NWHL/status/1071210855004602368

TXHT has more coverage on this news at the following page.