Today is Thursday, December 6th, 2018, and these are your news and notes
There were three contests in action last night.
Edmonton 3, ST. LOUIS 2 (SO)
The Edmonton Oilers would have a multi-goal comeback in the 3-2 win in a shootout over the St. Louis Blues last night.
It would mark the 61st time this season that a team would comeback from a multi-goal deficit and win the contest.
This would also mark the 17th club to have a multi-goal comeback and win in multiple occasions.
ANAHEIM 4, Chicago 2
The Anaheim Ducks in their 4-2 win won their 24th game in the calendar year at home.
SAN JOSE 5, Carolina 1
San Jose Sharks Joe Thornton would have a three-assist game for the first time in the 2018-19 season and would be the 58th in his career.  He joins 11 other players on this exclusive list.
The San Jose Sharks would go on to defeat the Carolina Hurricanes by the score of 5-1.  In the last five outings between the Sharks and Hurricanes, San Jose is 4-0-1.
Tonight's Schedule of games…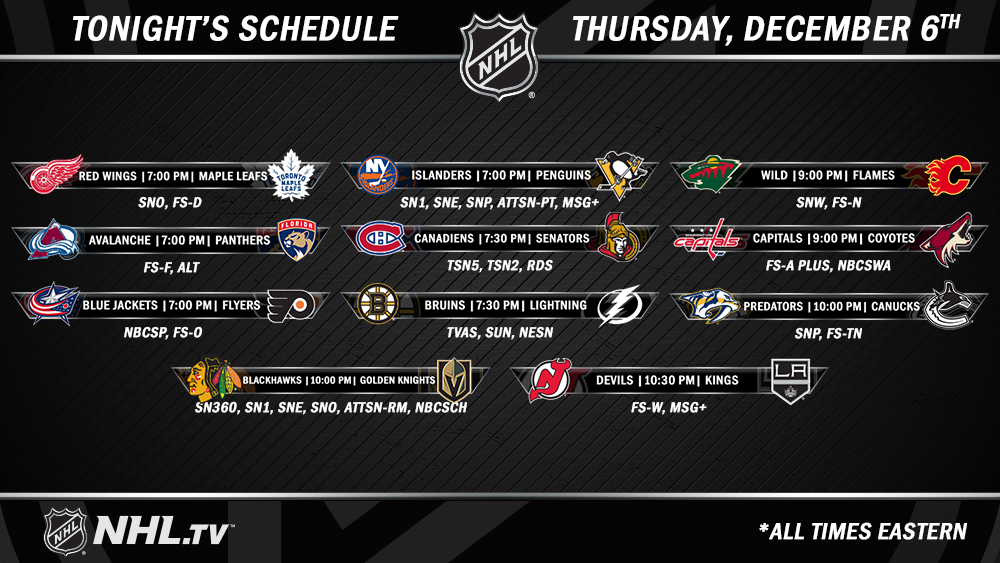 TXHT has your previews of the contests between the Detroit Red Wings at the Toronto Maple Leafs as well as the Washington Capitals at the Arizona Coyotes at the following pages.
Gameday Preview – 12/6/2018 – Washington Capitals v. Arizona Coyotes
Detroit Red Wings vs Toronto Maple Leafs – 06-12-2018 – Game Day Preview
For more news, notes, information, and stats…
In NHL news today…
The NHL today announced that there will be a Winter Classic fan festival in Chicago's Jay Pritzker Pavilion at Millennium Park and will serve as a prelude to the 2019 Winter Classic at Notre Dame Stadium in South Bend, Indiana.