Today is Tuesday, December 4th, 2018, and these are your news and notes…
Tampa Bay 5, NEW JERSEY 1
The Tampa Bay Lightning would win their 20th game on the season, becoming the sixth franchise to have 20 wins in consecutive seasons.
NASHVILLE 2, Buffalo 1
The Nashville Predators for the ninth time this season held an opponent to no more than one goal in a contest, which includes three shutouts.  Nashville would hand Buffalo a loss with the 2-1 win.
DALLAS 4, Edmonton 1
In the Dallas Stars 4-1 win over the Edmonton Oilers, all four goals by Dallas were scored by different players in the contest.
Today's Schedule: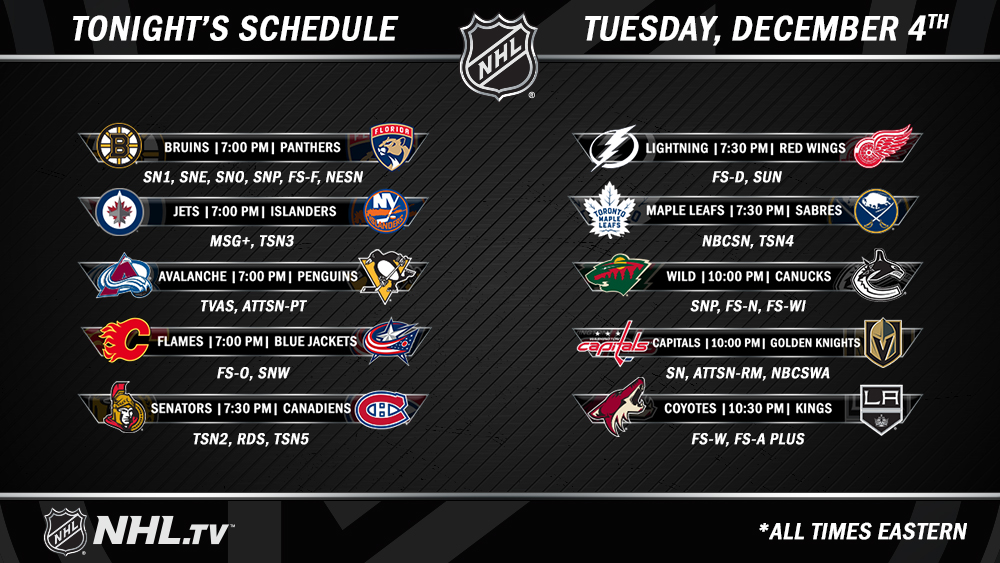 In NHL News today…
The NHL Department of Player Safety announced yesterday that Detroit Red Wings F Tyler Bertuzzi has been suspended for two games for unsportsmanlike conduct/roughing in Sunday's contest between the Detroit Red Wings and Colorado Avalanche.
The NHL today officially awarded Seattle an expansion franchise to begin play in the 2021-22 season.
The Seattle franchise will be the 32nd in the NHL and will be placed in the Pacific Division.  The Arizona Coyotes will be relocated to the Central Division, giving a full balance between all divisions and conferences.
For Full coverage of the NHL's expansion to Seattle…
Elliotte Friedman would release a bonus episode of his "31 Thoughts" podcast yesterday.