Today is Wednesday, November 28th, 2017 and these are your news and notes.
There were 10 contests in action last night.
-BUFFALO 3, San Jose 2 (OT)
The Buffalo Sabres would win their 10th straight contest, the most consecutive wins since the 2006-07 season in their 3-2 win over the San Jose Sharks last night.
The Sabres have won 10 straight contests three times, including this season.
-Ottawa 4, PHILADELPHIA 3
Brady Tkachuk and the Ottawa Senators would come back from a multi-goal deficit in the last 10 minutes of the game to defeat the Philadelphia Flyers 4-3.
-Carolina 2, MONTREAL 1
Carolina Hurricanes G Curtis McElhinney would have a 48 save performance, matching a career high, in the 2-1 over the Montreal Canadiens last night.
-Anaheim 3, TAMPA BAY 1
Anaheim Ducks G Ryan Miller would have 25 saves in his 373rd career win and is now one shy of the all-time record of 374 set by John Vanbiesbrouck for most wins by a U.S.-born goaltender.
-Colorado 3, NASHVILLE 2
Colorado Avalanche's Mikko Rantanen became the first player this season to have 40 points when he had two assists in the Avalanche's 3-2 win at the Nashville Predators last night.  With the achievement, Rantanen became the quickest player to reach to 40-point mark in a season since the Avalanche relocated from the Quebec Nordiques in 1995.
-Arizona 4, MINNESOTA 3
Despite the 4-3 loss to the Arizona Coyotes, Minnesota Wild's Matt Dumba extended his point streak to seven games and matched a franchise high for a defenceman.  Ryan Suter achieved the mark of seven games with at least a point twice.
-Pittsburgh 4, WINNIPEG 3
Pittsburgh Penguins F Phil Kessel would extend his point streak to nine games and is the longest active point streak in the League.
-Vegas 8, CHICAGO 3
The Vegas Golden Knights would score a franchise-record eight goals in their rout over the Chicago Blackhawks last night.
-EDMONTON 1, Dallas 0 (OT)
-Los Angeles 2, VANCOUVER 1 (OT)
After his hat trick on Sunday, it only took the Los Angeles Kings Dustin Brown 53 seconds to score the game-winner in the extra frame to give the Kings the 2-1 win at the Vancouver Canucks last night.
Today's schedule of games…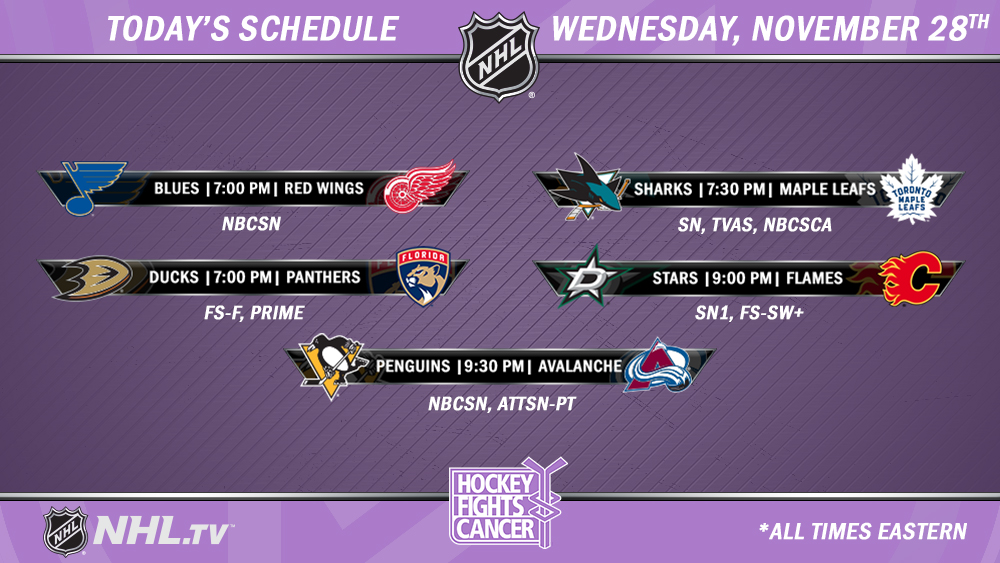 Image courtesy of NHL Public Relations and NHL.
For more news, notes, info, and stats…
Today in NHL news…
After the firing of Philadelphia Flyers GM Ron Hextall Monday, the organization today announced that Chris Pryor, the Director of Player Personnell and Assistant General Manager, and Assistant Coach Gord Murphy, have been relieved of their duties.
You can watch TXHT Live tonight at 8p EST on Facebook Live.