Today is Monday, November 19th, 2018, and these are your news and notes.
A quick recap of yesterday's contests:
Dallas Stars Jason Spezza would collect his 900th career point in the Stars win over the Islanders yesterday.  His 900th point would be an assist on Roope Hintz's first career NHL goal.
In the Carolina Hurricanes one-goal win over the New Jersey Devils, the Hurricanes would score two goals in the span of eight seconds to seal the win.
The franchise mark is two goals in six seconds, which was set on March 28, 1987, when the Hartford Whalers did it against the Pittsburgh Penguins.
The Colorado Avalanche would get their 1,000th win as a franchise in the overtime frame with the win over the Anaheim Ducks last night.
Colorado's Mikko Rantanen also became the eighth player in the franchise history or the Quebec Nordiques/Colorado Avalanche to have 30 points in 20 games played with the club last night.
Colorado would score the overtime winner with two seconds left in the overtime frame.
The Vegas Golden Knights went on to double up the Edmonton Oilers with a 6-3 win.
Marc-Andre Fleury would go on to have 29 saves in the win.
There are nine games on the docket tonight across the NHL.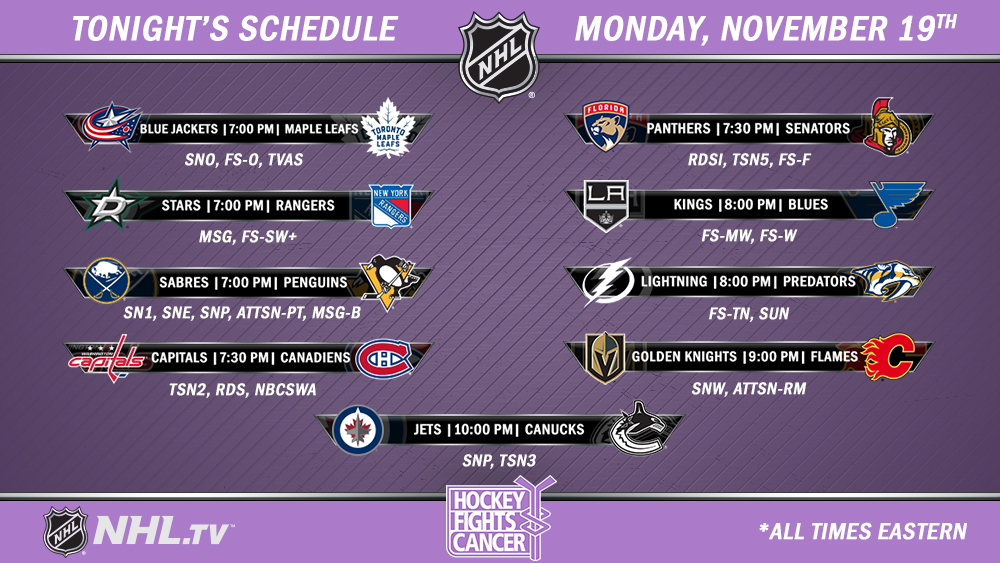 In the NWHL, there were two contests yesterday.
TXHT's Christopher Vasilas has your recap of the contest between the Connecticut Whale and the Metropolitan Riveters at the following link.
Game Recap – 11/18/2018 – Whale Get First Win Of The Season
In NHL news…
The NHL announced the Three Stars of the Week earlier today.
In NWHL news…
The National Women's Hockey League announced today their co-Players of the Week.  The honours this week go to Buffalo Beauts F Hayley Scamurra and Connecticut Whale's Meeri Raisanen.
You can watch TXHT tomorrow night at 8 p.m. ET on Twitch and Facebook Live.