Today is Saturday, November 17th, 2018, and these are your news and notes…
There were six contests in action yesterday.
Dallas Stars G Ben Bishop became the fifth player in franchise history to record a shutout over the Boston Bruins.
Buffalo Sabres Jeff Skinner scored in the contest, his eighth goal since November 1st, to give the Sabres the shootout win over the Winnipeg Jets last night.
Los Angeles G Calvin Petersen registered 34 saves in the contest and would turn aside two shots in the shootout give Petersen his first NHL win in the Kings contest over the Chicago Blackhawks.
Alex Ovechkin has 681 goals (regular-season and playoffs combined) to tie Dino Ciccarelli for 17th place all-time.
Nicklas Backstrom scored the game-winner just 22 seconds into the overtime to give the Washington Capitals the 3-2 win in Denver last night.
Game Recap – 11/16/2018 – Washington Capitals v. Colorado Avalanche
St. Louis Blues Ryan O'Reilly has at least one point in 11 out of the last 12 games and leads the Blues with 23 points on the season.  O'Reilly also scored two goals in the contest.
For the second time in franchise history, the Toronto Maple Leafs ended up sweeping the California road-trip in the Maple Leafs overtime win over the Anaheim Ducks.
Patrick Marleau scored his 539th career goal, passing Keith Tkachuk for 32nd place on the all-time list.
TXHT's Toronto Maple Leafs contributor Steve Gardiner has your recap of the game at the following page.
Game Recap – 11/16/2018 – Toronto Maple Leafs v. Anaheim Ducks
Today there are 11 games on the docket…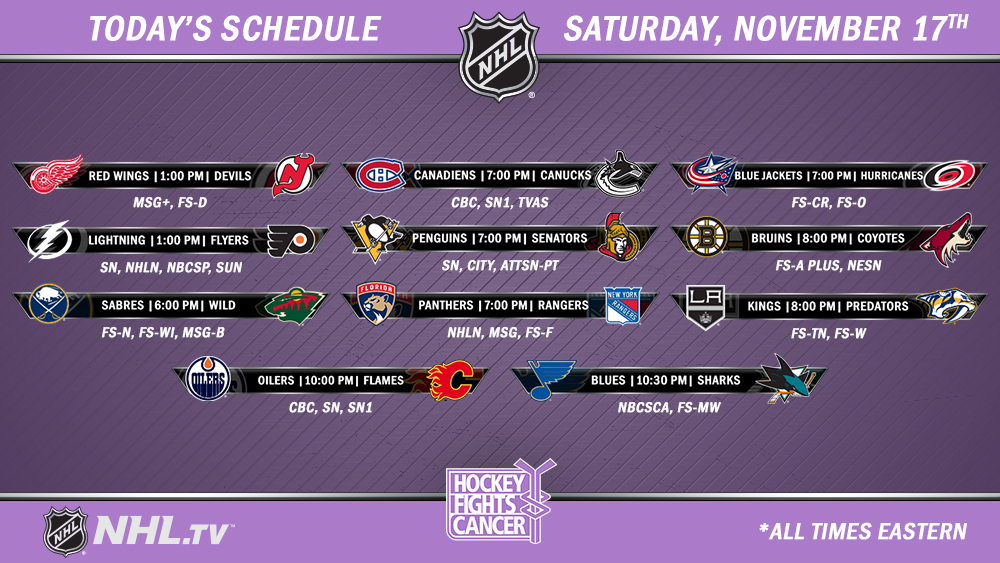 There are two options for this week's NHL European Game of the Week today.
For more news, notes, info, and stats…
In NHL news…
-Arizona Coyotes F Josh Archibald was suspended for two games for his illegal check to the head of Nashville Predators F Ryan Hartman in Thursday night's contest by the NHL's Department of Player Safety yesterday evening.
In the NWHL…
The NWHL returns to action TODAY.
This weekend's schedule of NWHL games…
This week's NWHL Twitter Game of the Week is Sunday and pits the Metropolitan Riveters against the Connecticut Whale.
You can watch TXHT Live next Tuesday at 8p EST on both Twitch and Facebook Live.