Today is Tuesday, November 13th, 2018, and these are your news and notes.
There were four contests last night…
There were two different Rangers players that scored last night that were under the age of 21 in New York's contest against the Vancouver Canucks last night.
Henrik Lunqvist moved into a tie for seventh place for wins by a goaltender with 437 in the win over Vancouver.
Carolina so far this season has registered the most shots on goal in NHL history through the first 18 games of the season
Chicago Blackhawks Alex DeBrincat played in his 100th NHL career game and scored his 37th career goal.
Only six other Blackhawks have scored at least 37 goals in 100 NHL career games.
The Columbus Blue Jackets to 7-0-0 against the Dallas Stars in the last seven games dating back to December 29th, 2015.
Anaheim Ducks G John Gibson earned his 99th career win with the Ducks shootout victory over the Nashville Predators last night.
Tonight's schedule of games.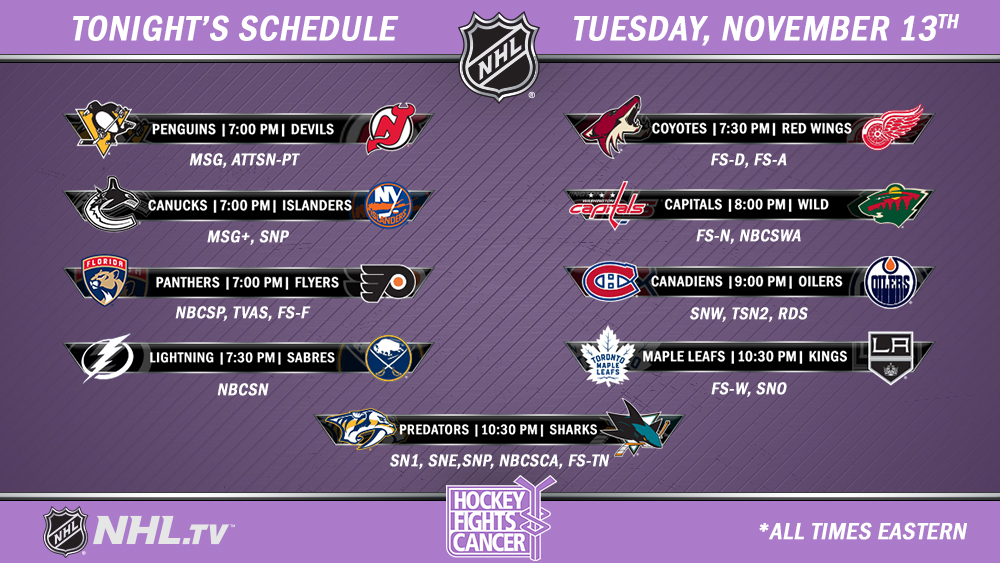 For more news, notes, info, and stats…
In NHL news…
-Washington Capitals F Tom Wilson's 20-game suspension for his illegal check to the head of St. Louis Blues F Oskar Sundqvist was reduced to 14 games by independent arbitrator Shyam Das earlier today.
In the NWHL…
-The National Women's Hockey League announced today that the 2019 NWHL All-Star Game will be held in Nashville, Tennessee.
The NWHL returns to action this weekend.
You can watch TXHT Live tomorrow at 8p EST on both Twitch and Facebook Live.